Anthony J. Bellitto, Jr., Executive Director of North Penn Water Authority Receives PMAA's 2019 William H. Markus Award
Lansdale, PA — October 14, 2019 – North Penn Water Authority (NPWA) is proud to announce that Executive Director, Anthony J. Bellitto, Jr., was the recipient of the Pennsylvania Municipal Authorities Association (PMAA) William H. Markus Award at the PMAA Annual Conference last month. The award is presented in commemoration of the ideals and principles of service and integrity fostered and demonstrated by William H. Markus, Esquire, the longtime solicitor, voice and conscience of the association and authorities across the Commonwealth.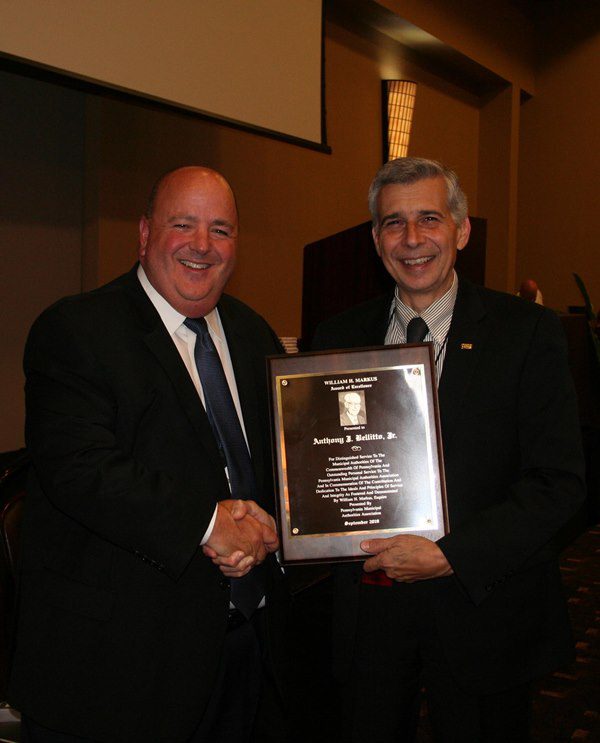 Tony Bellitto (right) with PMAA Executive Director, Doug Bilheimer.
"On behalf of the entire board of directors, I want to congratulate Tony on this momentous honor," said John Strobel, chairman of the Board of Directors for North Penn Water Authority. "Tony truly emulates all of the things that this award recognizes and I can't think of a more deserving person to receive it."
"Tony is an individual whose service to the association, his authority and his community has been exemplary since he joined 21 years ago," said Doug Bilheimer, executive director of the Pennsylvania Municipal Authorities Association. "Tony's professional leadership experience and his personal callings speak to his integrity and high moral code. On behalf of PMAA and the award committee, we are elated to present the Markus Award to Tony this year."
The William H. Markus Award is given to one recipient each year at PMAA's Annual Conference. According to PMAA, the purpose of this award is threefold: 1. To honor William H. Markus, a gentle man of integrity, blessed with unlimited energy who, for over three decades served as counsel for PMAA, truly the dean and conscience of the Association. 2. To inspire others to follow his example in instilling honesty, integrity, fairness, efficiency and fiscal responsibility in the operation of PMAA. 3. To recognize those persons who have emulated William H. Markus in the performance of their duties to Pennsylvania municipal authorities and to the Association.
Tony is a Past President of the Pennsylvania Municipal Authorities Association. He has served as PMAA Region 1 Director and Assistant Director, and has been active on several PMAA committees over the years. He has been involved with the technical and management capacities in the water industry for nearly 35 years, in New York City where he started his career and in Bucks and Montgomery Counties in Pennsylvania. He has been Executive Director of NPWA since 1998 and is a Licensed Professional Engineer, holding a Bachelor's Degree in Civil Engineering and a Master's Degree in Environmental Engineering from Manhattan College in New York City. He also holds a Master's Degree in Theology and is an ordained Permanent Deacon in the Catholic Church. 
Tony is also active with the American Water Works Association (AWWA) and their Water For People program that focuses on international water relief projects in poor communities around the world. The program raises funds and provides technical assistance for water supply and wastewater treatment projects in underdeveloped countries.
Tony and his wife, Sharon, have been married for 32 years. They have two children, ages 28 and 23 and three grandchildren under the age of 2.
About North Penn Water Authority
Established in 1965, North Penn Water Authority (NPWA) is a municipally owned, nonprofit Authority with a dedicated, professional workforce committed to providing the community with a safe, reliable, and economical water supply.  Water supplied to their customers comes from both a surface water supply that is treated at the state of the art Forest Park Water Treatment Plant (FPWTP) and from 15 groundwater wells located throughout the service area. To provide the highest quality water, the Authority has in place a main replacement program and performs annual flushing of its 580 miles of water main which serves nearly 35,000 customers.  NPWA also owns and maintains all fire hydrants in the service area to ensure hydrants are in working order in case of fire emergencies. NPWA employees, many of whom are NPWA customers themselves, take pride in being able to provide this service to the community. For more information, please visit www.npwa.org or call 215-855-3617.