North Penn Water Authority Thanks Community and Staff for Participation in Toys for Tots Program
Lansdale, Pa.— February 6, 2019 —NPWA wants to thank our customers, community businesses and NPWA employees for their generosity this past holiday season. For the 19th year, NPWA was a drop-off site for toys. Local businesses and organizations including the Lansdale Library and Coldwell Banker Realty Corp. Associates in Lansdale contributed donations to the collection this year.
Donations such as toys, books and art supplies were donated. The primary goal of Toys for Tots is to deliver, through a new toy at Christmas, a message of hope and help less fortunate youngsters experience the joy of Christmas.
"On behalf of NPWA, I want to thank the community and our employees who donated to Toys for Tots this year," said Anthony J. Bellitto, Jr. P.E., executive director of North Penn Water Authority. "We look forward to continuing this tradition of supporting an organization that makes Christmas a little brighter for families in need in our region."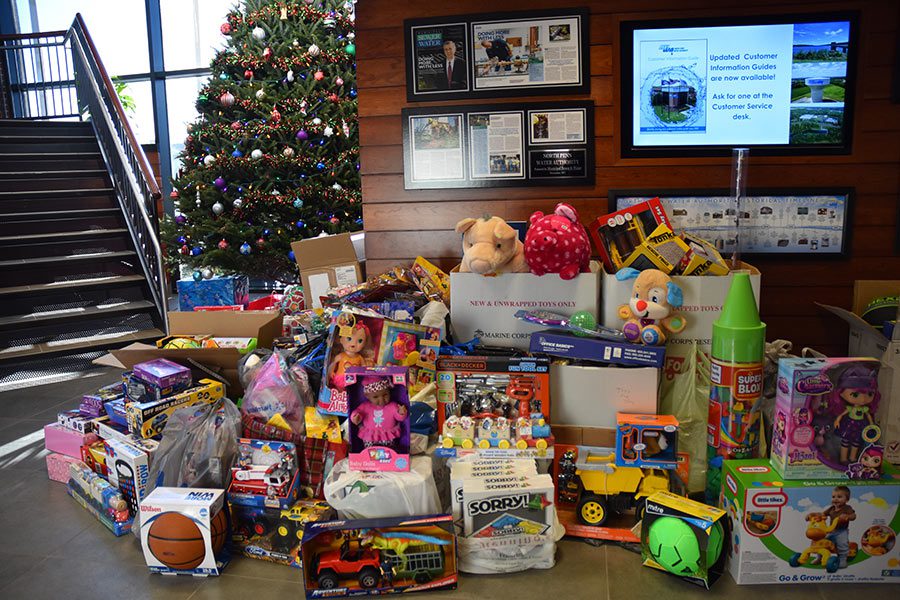 For more information, please contact Lindsay Hughes, Community Relations Coordinator, at 215-855-3617, ext. 130.
### 
About North Penn Water Authority
Established in 1965, North Penn Water Authority (NPWA) is a municipally owned, nonprofit Authority with a dedicated, professional workforce committed to providing the community with a safe, reliable, and economical water supply.  Water supplied to their customers comes from both a surface water supply that is treated at the state of the art Forest Park Water Treatment Plant (FPWTP) and from 17 groundwater wells located throughout the service area.  To provide the highest quality water, the Authority has in place a main replacement program and performs annual flushing of its more than 575 miles of water main which serves more than 34,500 customers.  NPWA also owns and maintains all fire hydrants in the service area to ensure hydrants are in working order in case of fire emergencies. NPWA employees, many of whom are NPWA customers themselves, take pride in being able to provide this service to the community. For more information, please visit www.npwa.org or call 215-855-3617.