North Penn Water Authority Presents Service Awards
Lansdale, Pa- December 7, 2021- Anthony J. Bellitto, Jr., P.E., Executive Director for the North Penn Water Authority, presented service awards at the Authority's Fall breakfast meeting held on December 3, 2021.
Service awards are normally distributed to employees semi-annually. Due to the pandemic, service awards from 2020 were withheld due to gathering restrictions. Employees with anniversaries in both 2020 and 2021 were honored and are listed below:
 35 years of service:
30 years of service:
Steve Reber
John Dickinson
Dan Pearce
25 years of service:
Bryan Reimel
Bruce Sandstrom
Lorraine Girone
 20 years of service:
Dan Preston
Erwin Hunsberger
John Boyce
15 years of service:
5 years of service:
Lindsay Hughes
Angelo Cosentino
Amy Payer
1 year of service:
Kathy Schulze
Kevin Buschmann
Joanne Reube
Zachery Harwanko
Tim Orr
Ami Tarburton
Henry Virkler
In addition to the awards listed above, a service award for 25 years of service was to be presented to Maryann Regan, who served as NPWA's Chief Administrative Officer. Unfortunately, Maryann passed away in early November. NPWA grieves the loss of Maryann – a dedicated, knowledgeable, and valued employee and colleague.
"The commitment of our employees ensures we fulfill our mission critical goal of providing a safe, reliable and economical water supply to our customers," said Anthony J. Bellitto, Jr., P.E., executive director of NPWA. "It's important for us to recognize the service of our employees to this organization and their commitment to the communities we serve."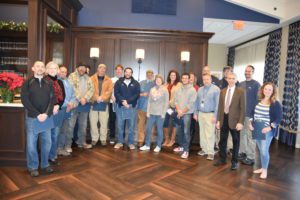 ###
About North Penn Water Authority
Established in 1965, North Penn Water Authority (NPWA) is a municipally owned, nonprofit Authority with a dedicated, professional workforce committed to providing the community with a safe, reliable, and economical water supply.  Water supplied to their customers comes from both a surface water supply that is treated at the state of the art Forest Park Water Treatment Plant (FPWTP) and from groundwater wells located throughout the service area. To provide the highest quality water, the Authority has in place a main replacement program and performs annual flushing of its more than 585 miles of water main which serves more than 35,000 customers.  NPWA also owns and maintains all fire hydrants in the service area to ensure hydrants are in working order in case of fire emergencies. NPWA employees, many of whom are NPWA customers themselves, take pride in being able to provide this service to the community. For more information, please visit www.npwa.org or call 215-855-3617.