NPWA Hydrant Contest Winner Completes Painting
Lansdale, Pa- June 23, 2023 – On June 23, NPWA welcomed Kalissie Loftus to their Operations Center to paint a fire hydrant, for which she submitted her winning design to their hydrant design contest held in May for Drinking Water Week.
Kalissie painted the hydrant "Bob" in her winning minion design, as her family and several NPWA staff looked on. The hydrant will proudly be on display in front of NPWA's Operations Center, located at 300 Forty Foot Road in Towamencin. A sign with her name will also accompany the hydrant, which will remain there until a new winner is announced during next year's contest.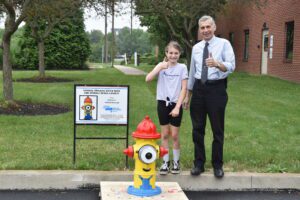 (Kalissie Loftus and Anthony J. Bellitto, Jr., executive director of NPWA, with completed hydrant.)
This year's contest was held during the first week of May in honor of National Drinking Water Week, for students in grades Kindergarten through fifth to design a fire hydrant. Kalissie, a third-grader at the time of the contest, submitted her design, which was among nearly 60 entries received. NPWA staff voted her design the winner on Friday, May 12.
"We look forward to seeing Kalissie's hydrant each day as we pass by, and are sure the bright colors and fun, recognizable design will be enjoyed by NPWA visitors of all ages," said Anthony Bellitto, Jr., executive director of NPWA. "We thank all of the kids who designed and submitted a fire hydrant for our Drinking Water Week contest; we look forward to seeing the creative designs each year."
National Drinking Water Week is an initiative of the American Water Works Association, and occurs during the first full week in May each year to recognize the vital role water plays in our daily lives. For more information, please visit www.awwa.org.
###
About North Penn Water Authority
Established in 1965, North Penn Water Authority (NPWA) is a municipally owned, nonprofit Authority with a dedicated, professional workforce committed to providing the community with a safe, reliable, and economical water supply. Water supplied to their customers comes from both a surface water supply that is treated at the state of the art Forest Park Water Treatment Plant (FPWTP) and from groundwater wells located throughout the service area. To provide the highest quality water, the Authority has in place a main replacement program and performs annual flushing of its more than 595 miles of water main which serves more than 35,000 customers. NPWA also owns and maintains all fire hydrants in the service area to ensure hydrants are in working order in case of fire emergencies. NPWA employees, many of whom are NPWA customers themselves, take pride in being able to provide this service to the community. For more information, please visit www.npwa.org or call 215-855-3617.