Officials and Volunteers Begin Planting at Lower Salford Township Rain Garden
September 8—Harleysville, Pa.—Officials gathered today at the Harleysville Community Center ball fields for the official groundbreaking of a rain garden. The planting of this rain garden is in partnership with North Penn Water Authority (NPWA), Perkiomen Watershed Conservancy (PWC) and Lower Salford Township.
The rain garden is a collaborative project between NPWA and PWC, and one of several over the last few years, including rain gardens in Lansdale and Skippack.
"Clean drinking water is our number one goal as a community water supplier," said Anthony Bellitto Jr., PE, executive director of North Penn Water Authority. "We are proud to work on this rain garden project and by partnering with the Perkiomen Watershed Conservancy and the municipalities we serve, like Lower Salford Township, we can help ensure water is cleaner at the source."
"Nothing is more valuable than protecting the natural resources that sustain us," said Ryan Beltz, executive director of the Perkiomen Watershed Conservancy. "We are happy to be working with Lower Salford Township and North Penn Water Authority on this project. This partnership shows that our local communities, municipalities and companies truly understand the value of protecting natural resources, like water."
"We are delighted to work with PWC on yet another project that will benefit and beautify our community. We are grateful to the volunteers who give their time to make this happen, and also to NPWA, our water supplier, for their generous sponsorship of this project," said Kent Krauss, Lower Salford Township Supervisor.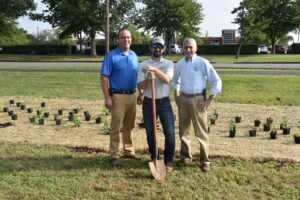 (From left to right: Kent Krauss, Lower Salford Township Supervisor, Ryan Beltz, Executive Director of Perkiomen Watershed Conservancy, Tony Bellitto, Executive Director of North Penn Water Authority)
The rain garden offers many benefits to those who utilize the park, including beautification, an increase in birds, butterflies, and wildlife, and will help foster healthier waterways. More specifically, the rain garden, consisting of native shrubs, perennials, and flowers, will collect rainwater and help with drainage in the area.
As part of its commitment to environmental stewardship and watershed education, NPWA is committed to educating the public on the importance of watershed protection, source water protection and water conservation. Partnering with the Perkiomen Watershed Conservancy for the rain garden project helps NPWA take that commitment to the next level by implementing a project that will act as a filter to rain water and storm water run-off.
(Lower Salford Township and Perkiomen Watershed Conservancy staff and community volunteers, along with NPWA Executive Director, Tony Bellitto)
About North Penn Water Authority
Established in 1965, North Penn Water Authority (NPWA) is a municipally owned, nonprofit Authority with a dedicated, professional workforce committed to providing the community with a safe, reliable, and economical water supply.  Water supplied to their customers comes from both a surface water supply that is treated at the state of the art Forest Park Water Treatment Plant (FPWTP) and from groundwater wells located throughout the service area.  To provide the highest quality water, the Authority has in place a main replacement program and performs annual flushing of its more than 595 miles of water main which serves more than 35,000 customers.  NPWA also owns and maintains all fire hydrants in the service area to ensure hydrants are in working order in case of fire emergencies. NPWA employees, many of whom are NPWA customers themselves, take pride in being able to provide this service to the community. For more information, please visit npwa.org or call 215-855-3617.
###