Officials and Volunteers Break Ground at White's Road Rain Garden
October 11, 2019 — Lansdale, PA –Officials gathered today at White's Road Park for the official ground breaking of the Rain Garden. The planting of this Rain Garden is in partnership with North Penn Water Authority (NPWA), Perkiomen Watershed Conservancy (PWC) and Lansdale Borough.
Community volunteers were busy assembling and installing Flo-Tanks, a modular sub surface system constructed to filter and hold water, with planting happening over the weekend. The Rain Garden is a collaborative project between NPWA and PWC, and began as a community contest held back in May in honor of Drinking Water Week. Lansdale Borough community members rallied to win the rain garden in their community at White's Road Park. 
"The Lansdale community is dedicated and the response to the Facebook poll showed just how committed we are," Borough Manager John J. Ernst stated.  "The active involvement of residents to enhance our park system with the White's Road Park Rain Garden is something that will have lasting effects for generations to come and that's something we can all be proud of."
"Clean drinking water is our number one goal as a community water supplier," said Anthony Bellitto Jr., PE, executive director of North Penn Water Authority. "We are proud to work on this Rain Garden project and by partnering with the Perkiomen Watershed Conservancy and the municipalities we serve, like Lansdale Borough, we can help ensure our drinking water is cleaner at the source."
"Nothing is more valuable than protecting the natural resources that sustain us," said Ryan Beltz, executive director of the Perkiomen Watershed Conservancy. "We are happy to be working with Lansdale Borough and North Penn Water Authority on this project. This partnership shows that our local communities, municipalities and companies truly understand the value of protecting natural resources, like water."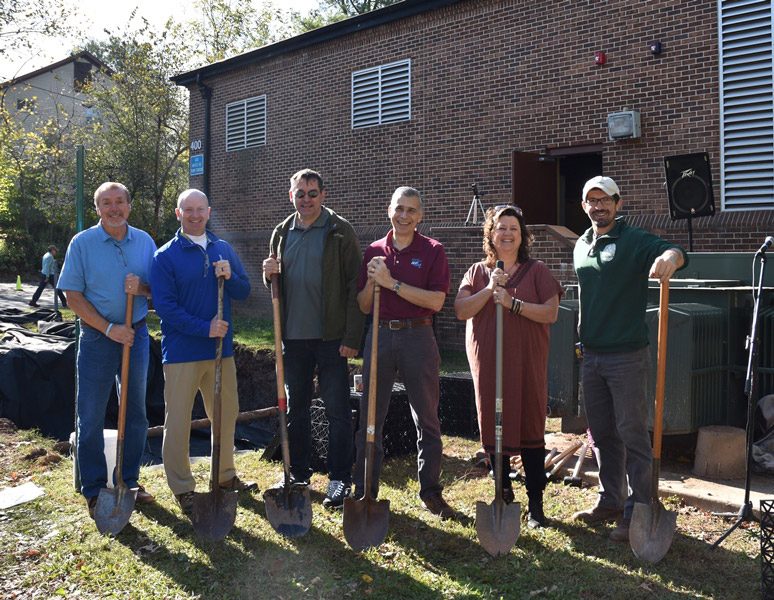 (From left to right: Dan Shinskie, Wastewater Treatment Plant Superintendent; Karl Lukens, Director of Parks and Recreation; Bill Henning, Lansdale Borough Councilman; Anthony Bellitto, Jr., Executive Director of North Penn Water Authority; Mary Fuller, Council Vice President; Ryan Beltz, Executive Director of Perkiomen Watershed Conservancy)
The Rain Garden offers many benefits to those who utilize the park, including beautification, an increase in birds, butterflies, and wildlife, and will help foster healthier waterways. More specifically, the Rain Garden, consisting of native shrubs, perennials, and flowers, will collect rainwater that normally overflows into the Towamencin Creek, preventing pollution and erosion into the creek.
The Rain Garden will help Lansdale Borough reduce storm water sediment into a nearby stream by collecting 1200 pounds of sediment annually. This helps Lansdale fulfill Municipal Separate Storm Sewer (MS4) requirements set by the federal Clean Water Act and administered by the Pennsylvania Department of Environmental Protection (PA DEP).
As part of its commitment to environmental stewardship and watershed education, NPWA is committed to educating the public on the importance of watershed protection, source water protection and water conservation. Partnering with the Perkiomen Watershed Conservancy for the Rain Garden project helps NPWA take that commitment to the next level by implementing a project that will act as a filter to rain water and storm water run-off.